The Featured Finalists book reviews by Award Committee members will appear monthly from November onwards.
GIGSTERS: Any age or ability employees, experts and entrepreneurs – by Sue Ellson & published by 120 Ways Publishing
Featured Finalist April 2020 review by Lawrence Arnold FRSA, Career Development Practitioner and Award Convenor
Gigsters are the 'new age artisans of skills, ability and technology' who are a growing number in our modern economy which now demands a wide cohort of industry professionals to provide immediate solutions to pain point problems. While self-employment has dropped from 15% of the workforce in the 1990s to 10% in 2018, as the economy has expanded the raw numbers have grown. With the dramatic economic challenge of coronavirus, many talented people may be forced to re-think where they deploy their talents – and gigging may become an option.
This book by Sue Ellson is a universal guide for those considering a stratospheric strategy for a life amongst the stars, and for those already steering 'Gigship Enterprise' through the asteroid belt and beaming down to explore new worlds of employment opportunities and alien threats.
The book presents gigsters as more than freelancers because they:
incorporate a variety of technology platforms to attract and retain gigs that are aligned with their values and lifestyle …
There's comprehensive advice on the technology needed for success. The section on 'Gigster Technology Apps' has valuable advice on the pros and cons of mobile phone or online applications, social media, websites, online portals and other platforms with specific schooling in why 'some apps are a complete waste of time'. There is clear information on the pitfalls that would take time and money to understand fully, and for a gigster – time IS money! There are many pages of clear advice based on personal experience and targeted research regarding precise technical issues that would never occur to the average person.
But the book's not just a teckfest; it encourages integrating hard knowledge with understanding and living your personal values as crucial to your gigster fulfilment. Most people go down the gigster path to be their own boss – so why would you be your own worst boss? The 10 Gigster Super Powers (intuition; conscience; emotional intelligence; cultural intelligence; authenticity; responsibility; ethics; proactivity; wisdom; and persistence) collate the attitudes, values, and personal qualities that are the basis of career success and fulfilment. And, it's not all high tech and tough ethics – there's plenty of intuition, creativity, and fun (and poetry!) in the book. The descriptions of the 12 Gigster Types, like Working Warrior, Principled Pragmatist, and Tenacious Temporary invite you to figure out what type of gigster you are. While these categories are 'indicative rather than prescriptive' they open up thinking on relating Gigster Types to your everyday life.
There are plenty of targeted exercises throughout the book to focus thinking on the next stage. They're even collected at the end of the book so you can binge in one hit – maybe you're a Box Binger! You can also use that section to review your position on the concepts presented in the text, as reading the book may have changed your mind on the issues.
Gigsters is a stand-alone book, but could also be seen as another star in the 120 Ways constellation that started with 120 ways to achieve your purpose with LinkedIn – one of the twelve outstanding career books listed in The Australian Career Book Collection.
---
Featured Finalist for March 2020
The 1 Minute Commute by Robert Gerrish – published by Macmillan
Reviewed by Kaye Nolan FRSA, Career Development Practitioner and Psychologist
For those who want to start their own business and at the same time have the convenience of working from home, this book provides a useful guide to the pleasures and pitfalls of flying solo. It draws on Robert Gerrish's years of experience in coaching and motivating entrepreneurs and business owners to tackle and overcome the numerous hurdles that any start up may face. 
In 25 concise chapters Gerrish efficiently covers the business basics: from identifying personal goals and attributes through to marketing, setting fees, time management, ensuring support, expanding the business, managing mistakes and staying focused. Gerrish engages readers throughout the text with brief fun activities: a letter from the future is always powerful, as is his "Café Conversations" where readers are invited listen in to what their ideal clients may say they need help with. Try it yourself – it's an excellent variation on "My Ideal Client" (which is also there in detail).
For the busy solo entrepreneur the book is brief and to the point, clearly laid out and readily accessible in language, style and layout. A judicious number of case studies personalise the book while the clearly marked breakout activities make them quick to engage with and easy to do on the spot. 
Gerrish's advertising background means that the books strength lies in its eight chapters dedicated to marketing. These are full of tips and activities to ensure that solo practitioners can effectively get the word out to sell themselves and their business solutions. 
As well as the practical strategies, Gerrish's voice motivates with pithy one on one advice "… good enough isn't good enough. Today's successful soloists don't have grubby business cards, ill-conceived logos or noisy, nasty cluttered websites. And neither should you," (p66). As "accidental soloists" we sometimes we need a firm and guiding hand to keep us on track. 
As well as basing the book on his years of experience mentoring small business owners, Gerrish also includes references to research studies which give the book added weight: did you know that according to one Stanford University study our creativity can be increased by 60% by standing up? Another market research study serves to remind us that 42% of businesses failed because they were a "solution looking for a problem" rather than by the business identifying a need first and addressing that.
While the title might suggest that this is a book about working from home, in fact Gerrish points out the life of a soloist is often nomadic. This means that soloists need to be prepared to take their work wherever they go – from their home office (which he helps us design), the local café, shared workspace or the other side of the world. 
While the book is a comprehensive user manual for soloists running their own small business, readers are also able to call upon Gerrish for personal and ongoing coaching, resources and support via his website. The soloist's commute may be only one minute but the journey is a long one – and soloists would do well to have a copy of Gerrish in their briefcase to read along the way.
---
The February Featured Finalist is Richard de Crespigny for FLY! Life lessons from the cockpit of QF 32, published by Penguin Viking
Review by Lawrence Arnold                 
On my 2016 LHR-MLB flight, I'd aimed to write the engaging intro to my upcoming CDAA conference paper linking the Australian Core Skills Audit to STEM careers. Our QANTAS captain started the usual flight welcome, adding a confidence-building tribute to our A380 aircraft, and invited us to chat with him on his 'walkaround of the cabin later in the flight'. I took up the offer. Our brief chat extended as the seat-belt sign came on, and Capt. de Crespigny settled into the vacant seat across the aisle from me for a fuller discussion with a captive audience. Little did he know that the captivity was mutual, and that my conference paper intro was writing itself.  And little did I know that Richard's FLY! Life lessons from the cockpit of QF 32 would be a Finalist Book for The Australian Career Book Award three years later.
Career memoirs have to be more than 'ripping yarns'. They use the drama of career incidents as props to educate readers in building strength for their everyday career situations in the city or the suburbs – and that's what FLY! does. Another aspect of an effective career memoir is that we have to care about the person, and the person has to care about us – FLY! shows that too.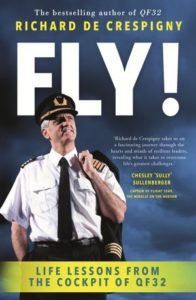 The book links dramatic incident, background story, reflective aftermath, deep research in skilling readers to dig deep to implement explained strategies to improve personal resilience (the capacity to keep control and rebound through failure), and 'manage career and work life' – in the city or suburbs.
A strategy explained in depth is Deliberate Practice (DP). Without DP, the QF 32 'air incident' may have been 'air disaster'. In FLY! DP and other technical terms are used and explained consistently, and are promoted with realistic exercises enabling readers to manage career and work life. It's the same approach with exploring and mastering the eight elements of resilience: knowledge; training; experience; teamwork; leadership; crisis management; decision-making; and risk. In Richard's words:
Resilience is something you develop, not something you are born with. It's like a muscle – hard effort builds it and laziness lets it fade away.
Resilience helps us make the most of the opportunities that come our way in the good times and it helps us survive the challenges that are hurled at us in the bad times.
Richard reveals that his 'ultimate role model for resilience' is his 90+ year-old father, encouraging us to look closer to home for life inspiration. He also draws strength from friends and colleagues: Gene Kranz (NASA Moon Landing Director); Sully Sullenberger (Miracle on the Hudson); and Neil Armstrong (One small step).
FLY! is a career memoir, and a career developer. It's not just 'I did it my way': it helps us do it our way, and manage the dramatic career explosions of our everyday lives – in the city or the suburbs.
---
The January book review is by Lawrence Arnold
Resilience at work: Practical tools for career success, by Kathryn Jackson & published by Routledge
After a busy year, we all need to reflect on resilience at work. Kathryn Jackson, experienced NZ learning and development coach, had had a busy 2010, and then had her world rocked by the 2011 Christchurch earthquake. She stepped up to join the Stronger Christchurch Infrastructure Rebuild Team (SCIRT) as a Peak Performance coach, helping leaders rebuild – everything! After researching, applying, and reflecting on resilience tools in this extreme situation she wrote Resilience at work: Practical tools for career success.
Few of us will experience such cataclysmic natural disasters, but earthquakes and volcanoes will occur in our careers and work lives. This book is aimed at organisations, career coaches, counsellors, and 'people who are specifically seeking more strength in their world of work.' It's packed with exercises, management advice, and coaching tales within the Resilience Foundations framework of Emotional honesty, Self-care, Connecting, and Learning. Readers can self-assess their resilience characteristics, beliefs, and actions as a basis to move forward. That's one big idea of the book. 
The other big ideas are the 'wish list' of 12 resilience attributes self-esteem; self-efficacy; autonomy; conscientiousness; agreeableness; openness to experience; self-directedness; low rumination; communication; detached coping strategies; problem solving skills; and optimism … and the basic advice of 'don't follow a guide', but use your own plan based on your own career and work life experience. 
There are plenty of exercises, self-reflection, and tools to assist this and ensure readers don't wander aimlessly through the landscape. I particularly like the 'Coaching moments' that encourage readers to link the ideas in each chapter to their real situations. One of them is:
For one week, keep a note of where your natural thoughts gravitate when things happen for you at work (this includes both successes and setbacks).
Then there are some specific focus questions to prompt reflection. This helps readers gradually build up a thought profile linked to real work situations.
While there's plenty of work for readers to do, Kathryn's energetic writing style will keep readers turning the pages … of the book and of their lives, and building resilience for career success.
---
The December review is by Warren Frehse.
Future Fit: How to Stay Relevant and Competitive in the Future of Work, by Andrea Clarke & published by Major Street Publishing 
The title of this book will exude high expectations in the reader. A future fit into an unknown and reasonably unpredictable future is enough to arouse interest, although the sceptics would hardly be convinced that one book would do it all.
But Andrea Clarke has managed to capture the essence of the changing workplace using solid examples from her experience as a journalist with a particularly vivid re-living in the first instance of landing in a war zone.
This book captures a somewhat complex issue in today's workplaces.  Jobs are changing rapidly.  People fear the rise of robots and artificial intelligence. So how do we prepare ourselves for the inevitable.
Well the inevitable turns out to be not as one might expect.  The author really convinces with solid examples and thoroughly backed-up researched predictions of a future where "human skills" will be powerful differentiators in an ever-changing and demanding 21st century.
The good news is that such skills can be learned or honed to provide a competitive edge into the future workplace, much of which of course, is unfolding right now.
This highly-readable and nicely structured book centres on eight of these human skills with each chapter headed by a thoughtful quote to allow some reflection on what is to come.
Weaving the experiences of a somewhat seasoned news correspondent, the reader quickly catches on that the new workplace will be about navigating sudden shifts and turns in direction akin to a developing news story. Those that thrive into the future will need to be agile enough to embrace these changes.
Her assertions are backed up by local and international research that quickly concludes that it is now obvious that sitting still is not an option. Staying relevant will be as much about redefining current skill sets as they are about nurturing creativity and actively networking.  It is not enough to let these crucial skills get rusty or simply left unattended to.
All up, the reader will feel empowered to sharpen these critical skills and be confident that human skills will naturally complement artificial intelligence, and eventually allay fears that robots will create an employment Armageddon through job elimination.
The message is clear that human skills will prevail and those who hone them will no doubt thrive and succeed in the future world of work.  This refreshingly positive, yet realistic message is the theme of this book. It will definitely leave you with a spring in your step with renewed confidence about the future.
---
The November review by June Smith is of the awarded book for 2019.
Career Conversations: how to get the best from your talent pool, by Greg Smith & published by Wiley
The world would be a better place if there were more effective career conversations. Greg Smith, very clearly and systematically, sets out to give managers the tools to initiate, and more importantly to lead career conversations that unless undertaken, will leave employees dissatisfied or, at times, look for opportunities outside of the organisation.
Greg provides exercises, frameworks and diagrams that simply but effectively demonstrate aspects of career review, so leaders have the tools to gain insight into their own behaviour and help employees address career issues.
This includes identifying transferable skills that are not discipline related, as well as isolating not only the skills they enjoy using, but those that align with current and future market needs. (p 18)
While this book is directed at leaders and managers within organisations, much of the content can be used by anyone wanting to review and think about their own career.
The standard performance review process includes components of career direction and related training and development but all too often these are not given the attention warranted. One of the reasons for this could be that managers are not confident about the language and process to do this effectively, and the book provides these tools equipping them to help employees.
Taking the approach Fit your own mask, Greg guides leaders to take steps to develop their career coaching skills. With plenty of case studies, tips for leaders, review of key learning and summing up, it's an easy to follow logical process. The diagrams are clear and useful in illustrating the approach and the foundation and context of each exercise.
Greg Smith is a very experienced and well qualified practitioner in career coaching, general management, recruitment and consultancy, and draws on this to provide a practical book delivering results for both managers and employees.