The Australian Career Book Award – hosted by the Royal Society of Arts Oceania

Finalist Books 2021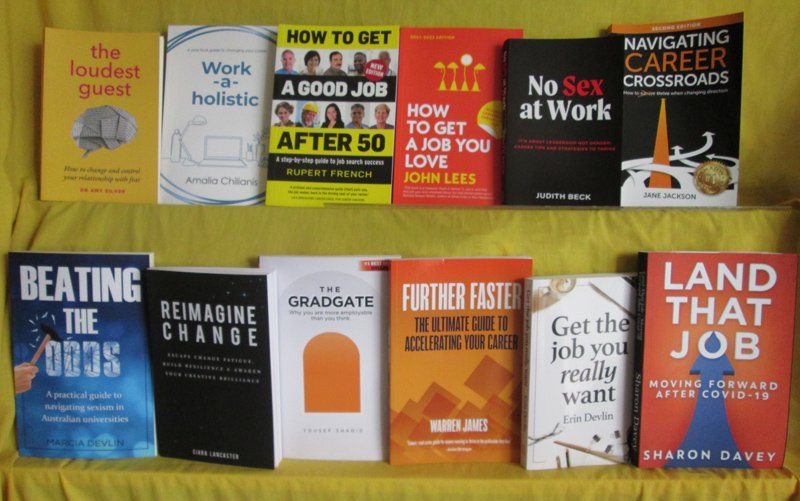 The twelve books below meet the award criteria 5Rs – readable, reachable, reliable, relevant, and researched. They will now be assessed by the  Award Committee to determine the awarded book 2021.
Judith Beck, 2021. No sex at work: It's about leadership not gender; career tips and strategies to thrive. Major Street Publishing
Sharon Davey, 2021. Land that job: moving forward after COVID-19. Next Chapter
Erin Devlin, 2021. Get the job you really want. Major Street Publishing
Marcia Devlin, 2021. Beating the odds: A practical guide to navigating sexism in Australian universities. Marcia Devlin
Rupert French, 2021. How to get a good job after 50: a step-by-step guide to job search success. Exisle Publishing
Jane Jackson, 2020. Navigating career crossroads: How to thrive when changing direction. The OMNE Group
Warren James, 2020. Further faster: The ultimate guide to accelerating your career. Rapid Mentoring
Ciara Lancaster, 2020. Reimagine change: Escape change fatigue, build resilience and awake your creative brilliance. Grammar Factory Publishing
John Lees, 2021. How to get a job you love. McGraw-Hill Education
Yousef Shadid, 2020. The GradGate: Why you are more employable than you think. Gradgate
Amy Silver, 2021. The loudest guest: How to change and control your relationship with fear. Major Street Publishing
Information on the Award may be obtained on the RSA website and the full Award files are to be found in the Award section of this website. The files contain the Award Story picture narrative, the Award criteria, Award Committee members, current Finalist Books, and book reviews of all Finalist Books over the Award Cycles. The Award Convenor may be contacted office@careermelbourne.com.
Lawrence Arnold, Award Convenor
June 2021